Academics
CTG UAlbany has close ties to teaching and research at the University at Albany.
We develop and teach courses within the nationally-ranked GISM concentration at Rockefeller College of Public Affairs & Policy and have a teaching and mentoring partnerships with the College of Emergency Preparedness, Homeland Security and Cybersecurity for students pursuing a Ph.D. in Information Science.
However, we are not a degree-granting institution.
---
Leadership, Workforce Development
Using the insights and knowledge we have gained over the last 25 years, CTG UAlbany prepares government professionals to innovate successfully and provide public value.
We offer 1-3 day long classes designed to meet a particular need.
CTG UAlbany teaches these classes at our institute in Albany, NY or onsite at a government location.
Frequently requested courses include:
The 21st Century Government Leader as an ICT Change Agent
Government Information as a Public Asset
ICTs in the 21st Century: Impact and Opportunity
---
Students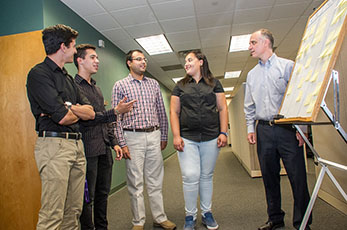 CTG UAlbany has worked with dozens of graduate and undergraduate students at the University at Albany over the years.
We all share a passion for technology, management, and policy aspects in digital government projects.
Many of these students have gone on to positions in government or academic institutions.
Current Graduate and Undergraduate Student Profiles >>