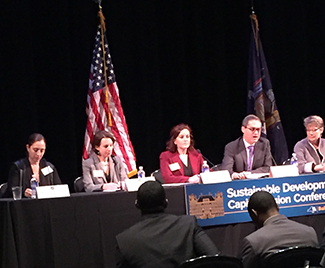 The Center for Technology in Government's project with four local cities to combat urban blight through regional information sharing is catching the attention of officials statewide as the Governor hosts a series of conferences aimed at preparing communities to work in a coordinated effort around issues such as economic development, housing, transportation, and environmental preservation.
Both CTG Program Director Meghan Cook and Program Associate Megan Sutherland are invited panel speakers at two of Governor Cuomo's Conferences on Sustainable Development & Collaborative Governance. Cook, who spoke at the Capital Region conference at Proctors on November 29th, and Sutherland, who will speak at the Mohawk Valley conference in Utica on December 13th, were asked to share with the hundreds of attendees at each conference the tools and best practices CTG recommends from its continued work with the cities of Schenectady, Troy, Amsterdam and Gloversville to combat urban blight by building the cities' capability to share information about property owners, properties, and the practice of code enforcement programs.
Cities throughout the country are facing the increasingly persistent and costly problem of blighted and vacant properties. Many experts believe that the cycle from blighted to demolition can be interrupted if there is access to the information necessary to identify and track this cycle, combined with an understanding of the underlying systemic causes of blight; however, in many cases, the city officials who need the information in order to take action, don't have access to the most up-to-date, accurate data.
With funding from the New York Department of State Local Efficiency Grant, this is where CTG comes in; with a project based on the widely-held idea that a city's success in reversing the cycle of decline relies on the organizational and technical infrastructure necessary to collect, manage and share property and property owner information within their own city, as well as with community partners, the public, other cities, and the State. CTG has been working with the cities since April.
CTG will continue to present its work at conferences throughout the state and nationwide, with another session, organized and led by Cook at the Smart Cities International Symposium & Exhibition in Chicago in January.
The University is quickly becoming a go-to resource and advocate on the subject of urban blight. The co-taught UAlbany-Albany Law School course that provides students an opportunity to work directly with officials in Albany and Schenectady to develop innovative legal, policy, and information management approaches to the challenges of problem properties will once again be offered this spring. This course, "Urban Innovation and Creative Problem Solving" (PAD 699), will be taught by Cook and Raymond Brescia of Albany Law.
On the creative side, led by Associate Professor of Art Adam Frelin and funded by Bloomberg Philanthropies, Breathing Lights has taken the state by storm. The month-long art installation illuminated hundreds of vacant buildings throughout the Capital Region to raise awareness of the issue of urban blight and highlight the buildings' potential for renovation.