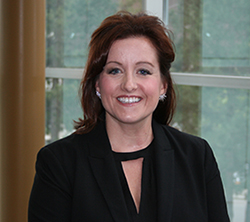 The University at Albany partnership with Albany Law School now has one more connection; Center for Technology in Government Program Director Meghan Cook has been named an Affiliate Faculty member at Albany Law. Meghan will teach a UAlbany course in collaboration with an Albany Law professor teaching an Albany Law course. Together, they will share instruction and provide students from both institutions an opportunity to work directly with city officials in Albany and Schenectady to help address the issue of urban blight.
CTG began partnering with Albany Law last year on the development and delivery of the inaugural "Law & Social Innovation: Creative Problem Solving," a course offered through Albany Law. As part of the course, which is an outgrowth of CTG's project with four local cities to address urban blight through regional information sharing, students from UAlbany and Albany Law worked together and with city officials to help identify legal intervention options and data-driven solutions for urban blight. A highlight of the semester was the final semester presentation by the students to the Mayors of Albany and Schenectady, followed by a presentation at the New York Conference of Mayors' annual meeting. Last year's project received funding from the Affiliation Collaborative Venture Fund.
The project-based courses will be co-located. The UAlbany Course taught by Cook and the Albany Law course taught by Ray Brescia, Associate Professor of Law, is designed to help students work in an interdisciplinary, experiential learning setting, while simultaneously providing city officials with new insights and fresh perspectives and research. For UAlbany students, the course, now called "Urban Innovation & Creative Problem Solving" (RPAD 699), is part of the Government Information Strategy and Management (GISM) Concentration in the Public Administration Department at Rockefeller College of Public Affairs & Policy. The Albany Law Course is again titled "Law & Social Innovation: Creative Problem Solving."
"I am thrilled to be named an Affiliate Faculty Member at Albany Law as part of the UAlbany-Albany Law partnership, and I am excited to work with Ray, and Mayor Kathy Sheehan, Mayor Gary McCarthy, and other city officials who are working to address blight every day." said Cook. "This course is an example of what can happen when like-minded institutions come together to provide students with high quality, experiential learning opportunities," she continued.
Ray Brescia adds, "Meghan adds a strong, interdisciplinary component to the leadership team for this course, as she does in all of her work. I am excited to continue this work together and to have her join as an Affiliated Faculty member at Albany Law School."