O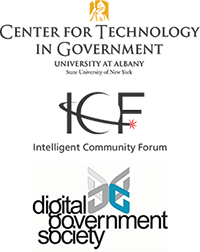 n June 7th, two global communities will convene for a day to build new partnerships that aim to change the future of research and practice for cities and communities around the world.
The Intelligent Community Forum (ICF) and the Digital Government Society (DGS), both global networks designed to connect e-government experts worldwide for collaboration and knowledge-sharing, have joined forces with the help of CTG to transform a part of their once separate conferences into a collaborative day that will provide an opportunity for members of both organizations, thought-leaders and doers from around the world to learn from each other's experiences like never before. Gathering at the College of Staten Island of the City University of New York, city government leaders from around the world and those affiliated with both organizations will come together in a series of keynotes, master classes and workshops organized to maximize the sharing of experiences and insights as well as interactions to build collaborations focused on a common goal: building research and practice partnerships to advance innovation in both rural and urban settings.
Committed to building international research and practice collaborations, CTG's Director and Chair of the DGS Liaison Committee, Theresa A. Pardo, PhD, and Governing the City Program Director Meghan Cook, connected officials from the two organizations. Together, they arranged for the one-day joint event to be held in conjunction with their regularly scheduled annual conferences.
Cook is co-organizing a featured session and discussions regarding the future "grand challenges" for the world's communities with Roberto Gallardo, Professor and Founder of the ICF Institute at Mississippi State University Extension. Opening the session to provide insights on societal trends, transformative movements, and the real challenges facing cities will be Pardo and Rob van Gijzel, the former mayor of the winner of the ICF's "Most Intelligent Community" Award. The session will feature a panel of world-renowned experts including several from the CTG-based Smart Cities Smart Government Research-Practice Consortium and ICF's Smart21 Communities. This session and many others will culminate with an opportunity for a cross-pollination of ideas and a collaborative call to action for all research and practice participants.
"This day-long event on June 7th is one that people who are interested in the work of cities and communities do not want to miss," says Pardo. "CTG is honored to be part of the team creating this unique multi-sector knowledge sharing event; bringing together thought leaders from many of the world's most innovative communities with the world's leading digital government scholars will surely provide fertile ground for idea sharing and partnership development" she continues.
"DGS is thrilled to partner with ICF to offer a true research and practice event for city and community leaders, and we expect this to be the beginning of many collaborations among the participants," says Soon Ae Chun, President of the Digital Government Society. "We are glad that CTG assisted in connecting our organizations and is contributing thought-provoking programming to the day's activities."
Robert Bell, ICF co-founder and content lead for all ICF Summits, agrees. "The elected, civic and volunteer leaders of Intelligent Communities seek visionary solutions to practical problems. I expect that bringing together scholars and practitioners in a single forum will strike sparks of creativity, challenge and inspiration found nowhere else."
Those interested in learning more or registering should visit the Intelligent Community Forum and the Digital Government Society. Anyone with questions about this joint day can contact Meghan Cook at mcook@ctg.albany.edu.