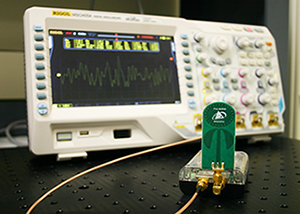 As you ride UAlbany's transportation this semester, you probably didn't realize you are actually helping a CTG research team determine the effectiveness of a new radio technology that is being considered by cities worldwide as they invest in the Internet of Things (IoT).
A research team from the Center for Technology in Government and the Signals & Networks Lab in the College of Engineering & Applied Sciences is working with Parking and Mass Transit and the Office of Facilities Management to study the feasibility of using ultra-wideband (UWB) technology, a wireless radio system that uses a small amount of energy to transmit large amounts of data over a wide range of frequency bandwidths to allow for ranging and localization at the same time. UWB technology is just one type of technology that can power the IoT, such as in smart streetlights that dim at certain hours or sensors in parking garages that allow citizens to find available parking with the help of a smartphone app. UWB can also be used in public transportation, with the potential benefits including:
Better tracking of trains and buses to help with scheduling and mitigating delays
Improving the fare payment process by eliminating the need for turnstiles, tickets or cards (such as the UWB technology sensing your public transportation card in your pocket)
Detecting potential obstacles in front of the train or bus to improve safety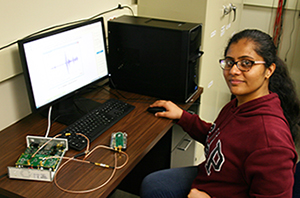 However, while these benefits sound promising, it is not clear if UWB can actually meet the demands placed on it within the context of a live public transportation infrastructure. To help build new understanding of what is really possible, the team, including PhD students Priti Pachpande and Ahmed Hussein, is investigating three key questions:
Will the UWB technology integrate well into the existing technology systems used in the city?
How accurate is the UWB technology, for example can it detect the buses' location with 10cm accuracy?
Is UWB consistent and resilient?
"The uses of the IoT across industries and sectors are increasing, and governments are taking notice and beginning to explore how they and their citizens might benefit," says Derek Werthmuller, Director of Technology Innovations & Services at the Center for Technology in Government. "While governments are looking at the benefit side of the equation – they also need new information to guide investment decisions, in particular identifying which factors must be considered when choosing IoT technologies and UWB strategies. This study will generate new understanding about how practical UWB is in a variety of uses, and will provide decision making guidance for governments around the world," he continues.
"This project is helping us better understand the propagation characteristics of the signals the UWB technology transmits, and it's also helping to assess and improve the performance of UWB-based technology," says Hany Elgala, Assistant Professor of Electrical & Computer Engineering and Director of the SINE lab. "I'm pleased to be part of such an exciting project making major steps towards a solution that could accurately, reliably and securely position an object in a 3D space."
The eight-month study led by CTG will assess the effectiveness of UWB through a series of experiments in UAlbany's transportation infrastructure on the uptown campus, including the tunnel system. Select buses and shuttle stops are equipped with sensors that are transmitting data to the team using UWB anchors. The findings from this data gathering and analysis will help governments answer questions they have about UWB's accuracy, consistency, resiliency and its ability to effectively integrate with other technology systems they are already using. As with any technology investment, IoT investments are not "one size fits all" and therefore the many variables must be considered prior to purchasing a new system.