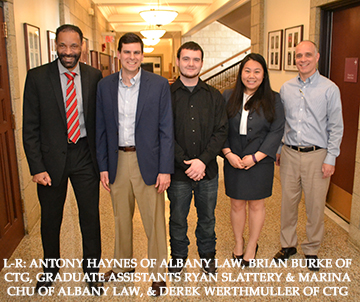 The Center for Technology in Government (CTG) at the University at Albany and Albany Law School might sound like they have little in common, except for one major thing: they leverage each other's respective expertise to help local governments better understand the legalities of investing in new technologies.
As more and more governments invest in ground-breaking technologies, such as smart streetlights that sense street activity or sensors that collect parking data to assist motorists, CTG recognizes that there is a need for governments around the world to consider the law surrounding these technologies, prior to investing in them.
To address this, CTG began partnering with Albany Law's Antony Haynes and his graduate assistants on the development of research pieces on cybersecurity, cyber-insurance, data accountability and the Internet of Things.
Playing off of their unique perspectives and with insights from CTG, Hayne's and graduate assistants Tyler Stacey, Marina Chu, and Ryan Slattery spent this spring honing in on the legal issues pertaining to governments using these technologies. Chu investigated what actions governments are required to take after their municipality experiences a data breach, while Slattery delved into the issues surrounding the Internet of Things and Stacey researched the legal ins-and-outs of cyber-insurance, a relatively new tool municipalities are considering to mitigate their costs when a data breach does occur. And, as Stacey cautions, "It's not about if a data breach occurs, it's about when – because they will," he says.
"As is the case with all of our Albany Law partnerships, it's been valuable for CTG to work with Antony and his students on this most recent work," says Brian Burke, managing director at CTG. Applying a legal analysis along with CTG's policy, management, and technology perspectives will go a long way in helping our local government partners better protect themselves and their citizens from cybersecurity threats."
"My graduate assistants and I found it worthwhile to conduct this mutually beneficial research with the Center for Technology in Government," says Haynes, associate dean for strategic initiatives and information systems, Albany Law. "Because issues related to technology innovations within the context of government law are becoming more and more prevalent, we are glad to have had the opportunity to learn more about it while at the same time providing a resource for our partners at CTG."
CTG will develop the pieces written by Hayne's graduate assistants into a comprehensive publication that can be used by CTG's government partners around the world. Culminating this work, Haynes will present at a session CTG Program Director Meghan Cook is organizing at the NYS Local Government IT Directors Association Spring Conference in Saratoga Springs this month.
This recent partnership is just another layer to the cross-institutional partnership established between UAlbany and Albany Law in 2015, and is an expansion on CTG's existing collaborations with Albany Law. Cook is an affiliate faculty member at Albany Law and as part of a course she teaches each spring, students from both institutions have the opportunity to work with city officials in Albany and Schenectady on legal intervention options and data-driven solutions for urban blight.
"The Affiliation between the University at Albany and Albany Law School is strengthened by collaborations such as this one that bring together students and faculty to explore complex critical issues as cybersecurity and data accountability," said Ann Marie Murray, associate provost for program development, UAlbany. "This initiative continues the ongoing work between CTG and Albany Law combining policy and research to benefit our students and our public partners."
About the UAlbany and Albany Law Affiliation
After years of collaboration, Albany Law School and the University at Albany announced a formal affiliation in October 2015. The partnership strengthens both institutions by creating innovative academic opportunities for students and opportunities for new research and grant prospects for faculty. The affiliation is designed to create economic and social benefits for the Capital Region and beyond. To learn more, visit here.