More than a dozen University at Albany students were busy balancing the usual responsibilities this semester: schoolwork, social life, jobs, and one more thing: helping governments prepare to use new technologies. Here is a roundup of what the 13 did at the Center for Technology in Government this spring.
Cybersecurity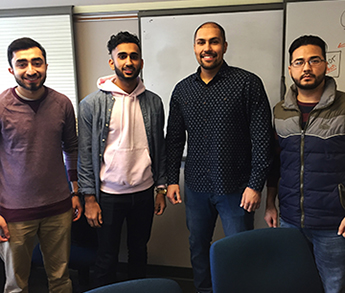 CTG and the Cybersecurity is a topic that needs attention by any organization that uses the internet, and even the most seemingly well secured companies can experience catastrophic cyber-attacks. Hackers gain entry to an organization's system through what's called an "attack surface," which can include multiple points of entry including a website, email system, network, etc. The same concerns exist for government, and UAlbany informatics and cyber security students Zabeah Ahmadzai, Haseeb Kaurejo, Mojtaba Roshan, Saad Tai are preparing for careers helping organizations avoid these unauthorized access incidents. The four seniors spent the semester at CTG learning how to perform assessments of local governments' attack surfaces and determining vulnerabilities.
"This internship taught me the highest cybersecurity standards and helped me become a strong job candidate; thanks to this opportunity, I will soon begin my career with a federal technology consulting team," says Zabeah. "I look forward to leveraging my experience to help solve some of the federal government's biggest technological challenges," he continues.
Visualizing Data for a Healthier NY
Graduate computer science students Bhaumik Patel and Bhavik Patel, public administration & policy PhD student Sora Park, and information science PhD student Felippe Cronemberger made health data come to life this semester as part of CTG's ongoing partnership with the New York State Department of Health (NYSDOH). The project, which has engaged students since its launch in 2015, explores the potential benefits of using data visualizations to help consumers better understand health-related data that is already available to them. For example, Bhaumik and Bhavik took simple-looking but comprehensive charts that provide data on death rates and birth statistics (such as county, birth weight, age of mother, etc) and transformed them into interactive maps and graphs. As Bhaumik and Bhavik created the visualizations, Park and Cronemberger worked alongside them and NYSDOH officials to assess the usefulness of such visualizations and analyze any efficiencies achieved through the software.
Electronic Records Management
Many small governments with limited technical capability are left with no choice but to rely on paper records and manual processes that consume staff time and slow operations. Graduate computer science student Abhishek Gupta worked on CTG's project to improve the electronic records management system currently in use by hundreds of governments throughout NYS, through a partnership with the Digital Towpath Cooperative (DTP), a digital government shared service provider for small and medium sized governments in NYS. Gupta unraveled code and developed prototypes of improvements to the electronic records management system, and was met with high praise: DTP's Jeanne Brown says, "We are highly impressed with Abhishek's professionalism and attention to detail. His work will help provide governments throughout the state with tools they haven't had in the past."
The Internet of Things (IoT) for Public Transportation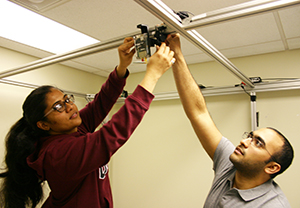 CTG and the Signals & Networks Lab are studying ultra-wideband (UWB) technology, a wireless radio system that uses a small amount of energy to transmit large amounts of data. UWB technology is just one type of technology that can power the IoT, such as in transportation to track trains and buses, improve the fare payment process, and detect obstacles. To help understand if UWB technology lives up to it's potential, computer science PhD students Priti Pachpande and Ahmed Hussein are conducting experiments in which UAlbany buses, shuttle stops, and the tunnel system are equipped with data transmitting sensors. The team is investigating three questions:
Does UWB technology integrate well into existing technology systems?
How accurate is UWB?
Is UWB consistent and resilient?
Intelligent Vehicles & Roadways
We often hear about how the IoT will revolutionize travel, such as with cars that drive for us, but many of us don't consider what this and other types of transportation technologies mean for the agencies overseeing our roadways. Karan Verma, an MPA student, explored "'intelligent transportation" with the NYS Thruway Authority and CTG. He set out to research topics including:
Where is the automotive industry heading?
What are the considerations that should be taken into account for connected/driverless vehicles?
Do cameras have a role in traffic investigations?
He developed comprehensive reports and presented to Thruway Authority officials, including the Commissioner. "Karan was a pleasure to work with and his enthusiasm was inspiring," says Kim McKinney, Chief Technology Officer. "His research proved to be very enlightening to the Thruway Authority and his excellent presentation to our Executive Leadership team sparked great conversation," she continues
Exploring Financial Market Regulation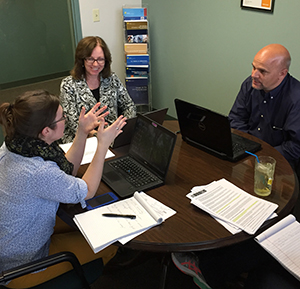 To maintain the integrity of the country's financial market, financial institutions are subject to requirements and restrictions in what is known as "financial market regulation." As a follow up to a National Science Foundation funded grant focused on the challenges of information sharing in Financial Market Regulation, Andrew Roepe, a graduate student studying public administration and financial market regulation, worked with CTG as part of an independent study where he researched information sharing and integration in the context of financial market regulation. This includes conducting a literature review, researching current efforts to address information sharing in financial market regulation, and contributing to a CTG research report on the challenges and complexities of information sharing in this market. Sora Park, who worked on the previously mentioned data visualization team, is also an integral part of this work. With a research interest in regulatory policy making processes and decisions within financial market regulation, Sora worked on the report by researching and gathering information about the financial regulatory environment, data sharing challenges and research questions for future studies.
Smart Cities
Matt Leger, an MPA student with aspirations of holding office one day, is interested in how governments implement new technologies. Working with CTG, he researched implications of the IoT, emergency management technology systems, and blockchain. He also participated in an annual workshop in which Chief Information Officers from New York's largest cities gather at CTG to share ideas, discuss common challenges, and brainstorm possible solutions for their cities
"My experience at CTG was incredibly important to me and helped me learn more about what I want to do in my future career," Matt says. "I developed a new set of knowledge that I'm confident will serve me tremendously in a career in local government."
Felippe Cronemberger's, who as previously mentioned worked on CTG's data visualization work with the NYS Department of Health, is also interested in smart cities and has begun working on his dissertation with CTG in which he is exploring the roles that information sharing and data analytics play in smart cities' initiatives. As part of his data collection, Felippe is studying under CTG to work with city officials, including those in Kansas City, MO and Syracuse to test a collaborative model for data analytics.
"Working with CTG has been valuable to me because I am challenged by real-world information technology problems while collaborating with an interdisciplinary team of experts," Felippe says. "This experience has helped me enhance my research skills by exploring how data and information get used and shared across organizations," he continues.