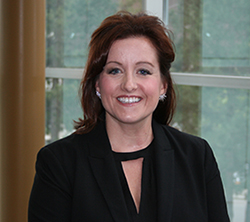 Center for Technology in Government Program Director Meghan Cook is receiving two awards within just weeks of each other this summer; the SUNY Chancellor's Award for Excellence in Professional Service and the Alumni Achievement Award from Excelsior College.
Meghan, who has worked at CTG for 20 years, works with governments all over the world to foster, cultivate, and develop innovative solutions in the public sector. She is a sought-after speaker and facilitator, having delivered more than 200 thought leadership and strategy development sessions for government leaders across the world, and has published numerous articles detailing how organizational capabilities, information policies, management practices, and technology choices intersect to shape government operations and services. She graduated from Excelsior College in '94 with a bachelor's degree in liberal studies, and then continued her education at UAlbany where she received masters' degrees in both public administration and education.
Meghan is among the 12 University at Albany staff and faculty receiving the Chancellor's Award for Excellence for consistently superior professional achievement. The award follows her recipient of the UAlbany President's Award for Excellence.
"The strength and impact of SUNY is powered by expert faculty and staff from throughout our 64-campus university system, and the 361 individuals receiving this year's Chancellor's Award for Excellence are the best among the best," said Chancellor Nancy Zimpher. "They are at the top of their game in providing their institution and students with the highest quality of instruction, professionalism, and support. It is my great honor to celebrate the achievements of this year's recipients."
The Alumni Achievement Award from Excelsior College recognizes outstanding academic, professional, personal, and community contributions that are representative of Excelsior graduates. She will be presented with this award at Excelsior's Annual Convocation Ceremony at the Desmond Hotel in Albany in July.