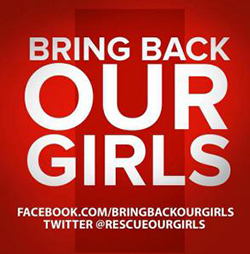 When more than 270 young girls were kidnapped from their school in Chibok, Nigeria by heavily armed members of the Islamic extremist group 'Boko Haram' in April 2014, a social media and e-petitioning phenomenon took storm.
Now, a research team led by a Center for Technology in Government faculty fellow has found clear evidence of a link between certain social media efforts and the likelihood that someone will sign an e-petition.
Just weeks after the violent kidnapping, a young Nigerian girl created a petition on Change.org, a website that enables individuals and organizations to launch campaigns.
The goal of the campaign, nicknamed #BringBackOurGirls, was twofold: to unite the world in efforts to rescue them, and to express solidarity with the girls. Just one week after it launched, the petition had gone viral and garnered 250,000 signatures from people all over the world.
By its ending date a year later, more than a million people had signed it. But what is it that makes campaigns like this go viral?
Teresa Harrison, PhD, a faculty fellow at CTG and also a professor in the Department of Communication, has a particular research interest in the relationship between new media and democratic processes and practices. Seeking to understand how electronic petitions such as the one for #BringBackOurGirls gain such transformative popularity, she and her team (comprised of University at Albany's Catherine Dumas and Nic Depaula, doctoral students in the Department of Information Sciences, Will May of the Department of Economics, Akanksha Atrey, Jooyeon Lee, and Lokesh Rishi of the Department of Computer Science, Tim Fake, and Professor Emerita S.S. Ravi) used this campaign to study the extent to which various forms of online media are related to signature accumulation in petition campaigns.
The team used statistical research methods to explore how a variety of different kinds of media affected the growth of the extremely popular petition. Some of their findings include:
Every tweet about the petition generated an average of an additional 38 signatures, supporting the idea that tweeting to one's followers does indeed encourage more accumulation of signatures. Many petitioning platforms, including Change.org, allow signers to automatically tweet to their followers immediately after signing the petition, making it even easier to encourage signatures.
There is a strong relationship between the appearance of #BringBackOurGirls stories in the mainstream online news/magazine items and the accumulation of signatures, suggesting that every story appearing in the mainstream online news stimulated an additional 1,238 petition signatures. However, a similar effect was not found for online media such as blogs.
Mentioning the Change.org petition in an online media item of any kind (news/magazine or blogs) produced a corresponding increase in petition signatures of 1,365 per day.
As signatures increased, the number of online news/magazine items also increased, supporting the idea that the mainstream news monitors what is happening in social media and increases their coverage of a topic when it is receiving a lot of attention by social media users.
As mainstream news items covering the BBOG story increased, so did the number of tweets mentioning the #BBOG campaign.
"Our research shows how complicated the current media environment is and how much the various forms of media interact to create a viral effect," Teresa says. "Ultimately, these processes mean that one lone person can influence what many people are able to express their opinions about," she continues.
While any one of the study's findings may not immediately explain how something can go viral on social media, combining the individual phenomena begins to show a clearer picture. Mainstream news stories increase tweets, tweets increase petition signatures, and increased signature accumulation increases the number of online stories, producing a virtuous circle for some period of time. The full paper, which won a Best Paper award at the 18th Annual International Conference on Digital Government Research, can be read here.