Every year, a group of talented, energetic students make their way to CTG for a summer of learning and innovation. This year was no different; here's a peek into what our students were up to:
Visualizing Data for a Healthier New York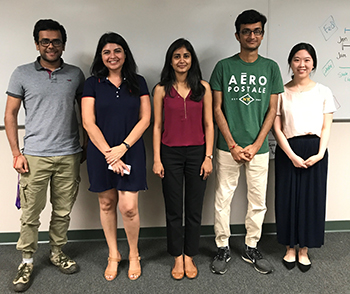 Graduate computer science students Bhaumik Patel and Bhavik Patel and public administration & policy PhD student Sora Park made health data come to life once again this semester as part of CTG's ongoing partnership with the New York State Department of Health (NYSDOH). The project, which has engaged students since it began in 2015, explores the potential benefits of using data visualizations to help consumers better understand health-related data that is already available to them. This summer, Bhaumik and Bhavik continued taking simple-looking but data-heavy charts and transforming them into interactive maps and graphs. As they created the visualizations, Park worked alongside them and NYSDOH officials to assess the usefulness of such visualizations and analyze any efficiencies achieved through the software.
Farm Traceability
Whether it's to ensure our food is free of food-borne illness, or for economic development purposes, it's becoming more and more important for governments, businesses, organizations and citizens that food be traceable from the moment it leaves the farm, until the moment it lands on our plate. Qianli Yuan, a first-year PhD student studying public administration, spent this summer working with the CTG team that is analyzing the dynamics among small local farms, food distributors, institutional buyers, and other key government and non-government actors in the context of food traceability. Qianli worked closely with the team, conducting research interviews, transcribing interviews, and providing overall project support.
Environmental Scan for Child Welfare Information Systems
Martha Avila Maravilla, a doctoral student studying informatics, was an instrumental member of the CTG team working with the New York State Office of Children and Family Services on a project to assess the potential implementation of new regulations regarding a case management information system. Martha conducted an environmental scan by researching comparable states' progress using a similar system, and also created templates for the project team to use when conducting interviews. She also researched extensively on the new regulations and administratively supported the project team in many capacities.
The Internet of Things for Public Transportation
PhD students Priti Pachpande and Ahmed Hussein continued working on the CTG and Signals & Networks Lab partnership project to study ultra-wideband (UWB) technology, a wireless radio system that uses a small amount of energy to transmit large amounts of data. UWB technology is just one type of technology that can power the IoT, such as in transportation to track trains and buses, improve the fare payment process, and detect obstacles. This summer, Priti and Ahmed equipped a UAlbany bus, shuttle stops, and the tunnel system with sensors and are conducting experiments to investigate three questions:
Does UWB technology integrate well into existing technology systems?
How accurate is UWB?
Is UWB consistent and resilient?
Strategic Planning
Rashmi Ruikar, a graduate student studying computer and information sciences, worked with the CTG team that's working with the New York State Department of Health, Office of Health Insurance Programs (OHIP) Division of Operations and Systems to create a strategic plan for the organization. Rashmi developed workshop materials and facilitation plans, organized major project tasks and deliverables, and conducted research on project management methodologies and practices.