The best and brightest from around the globe continue to come to work with CTG UAlbany.
Pierre Lovens Merolien – a 2017-18 Hubert Humphrey Fellow – has joined the research institute for the summer to get hands-on experience in emerging technologies and how innovative governments can use and govern them for the public good.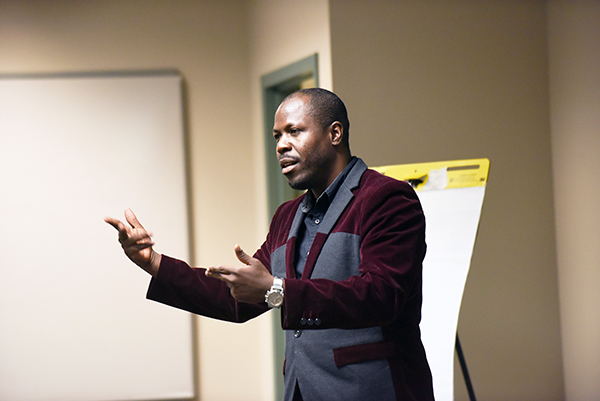 "This is an exciting opportunity for me," Merolien said. "I am very interested in sharing my experiences and to benefit from CTG's expertise as well."
"With the international reach that CTG has, we are thrilled to welcome another expert in to share ideas with us," Program Director Megan Cook said. Cook will work directly with Merolien during his time in Albany. "Different points of view help us have a greater understanding of how our work can be used around the world."
Mérolien was most recently a Pre-sales Engineer at Digicel Haiti – a mobile phone network provider operating in 31 markets across the Caribbean, Central America and Oceania – where he designed and developed business solutions products and acted as Digicel's resident expert on communications technology projects.
Based out of Syracuse University for the duration of his fellowship, he has taken classes and visited with technology policy agencies to learn techniques and skills to help increase the awareness of technological impact. He is also exploring areas such as technology development, data science, technology policy.
He received a degree in Telecommunication and Electronics Engineering from the University of Pinar Del Rio in Cuba.
"I am interested in a variety of areas including open government, e-government, technology policy, and management of technological development," Meolien said.
Sponsored by Congress through the Bureau of Educational and Cultural Affairs of the U.S. Department of State, the Hubert Humphrey Fellow program is a ten-month non-degree academic study and experience for young and mid-career professionals from designated countries undergoing development or political transition. Fellows are selected based on their potential for leadership and their commitment to public service in either the public or the private sector.
More than 5,600 men and women have been Humphrey Fellows since the program began in 1978. Approximately 200 Fellowships are awarded annually.