Iowa State Association of Counties (ISAC) leaders wanted to learn about data culture, management capabilities, and environments. They reached out to CTG UAlbany's experts.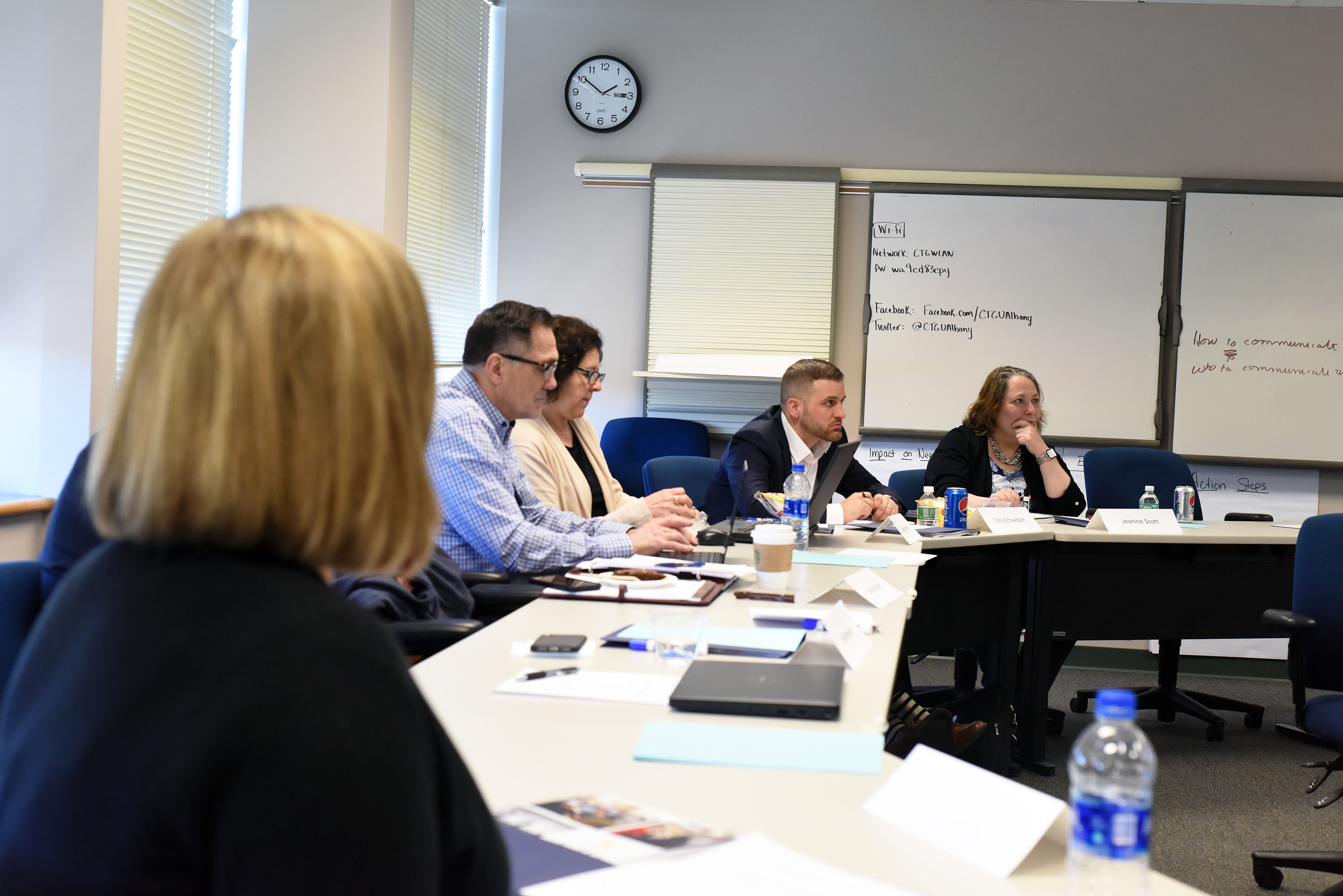 After ISAC members saw Program Director Meghan Cook's presentation, "Data-Powered Transformation: Tapping into Government's Most Valuable Resource," they contacted CTG for help examining ISAC's current data management capabilities. ISAC wanted guidance to meet its goals: supporting its members along with expert management, and use of, Iowa's mental health case management and financial data.
In mid-April, CTG UAlbany Director Theresa Pardo, Faculty Fellow Luis Luna-Reyes, Cook, Senior Developer James Costello, and Program Associate Megan Sutherland worked with ISAC leaders to build awareness and understanding around topics such as artificial intelligence, machine learning, business intelligence, evidence-based decision making, and data management.
ISAC leaders explored data use goals, barriers, and conducted self-assessments of data management maturity capabilities including data governance, architecture, analysis, design, management and security.
"The workshop was designed to identify and develop actions that ISAC might take to meet their goal of using data to inform mental health policy and investment decision making, as well as performance monitoring, in the counties and regions they serve," Pardo said.
"[The workshop was] educational, eye-opening and overwhelming." ISAC IT Manager Jeanine Scott said. "[CTG] successfully presented difficult concepts in an understandable manner. I was very impressed by their shared ability to speak to non-technical people about the importance of data management on the business side. I was also pleased with the number of concrete ideas we could immediately implement."
Beyond CTG experts, Acting New York State Chief Data Officer John Rager provided an overview of the state's strategic data planning efforts, discussed challenges in building capabilities across state and local agencies, and shared his insights in addressing those challenges.
Now, CTG will develop a workshop summary report and recommended actions for ISAC as it works to build the data management and use capabilities necessary to serve its members.
"Leaders want to tell compelling stories and behind every good story is data," Cook said. "Leaders and organizations need a deeper understanding of data as an asset and how it must be uniquely managed to maximize potential use. CTG workshops are specifically designed for non-technical leaders and program executives to help them understand what they must do to ensure their agency gets the maximum value from its data and how to do the things that must be done."
CTG UAlbany is an applied research institute at the State University of New York at Albany that aims to transform public services through innovations in management, policy and technology.